RED AND GREEN Butterflies Information page
Welcome to Red and Green Butterfly Classes. Here you will find lots of key information about what happens in Reception class.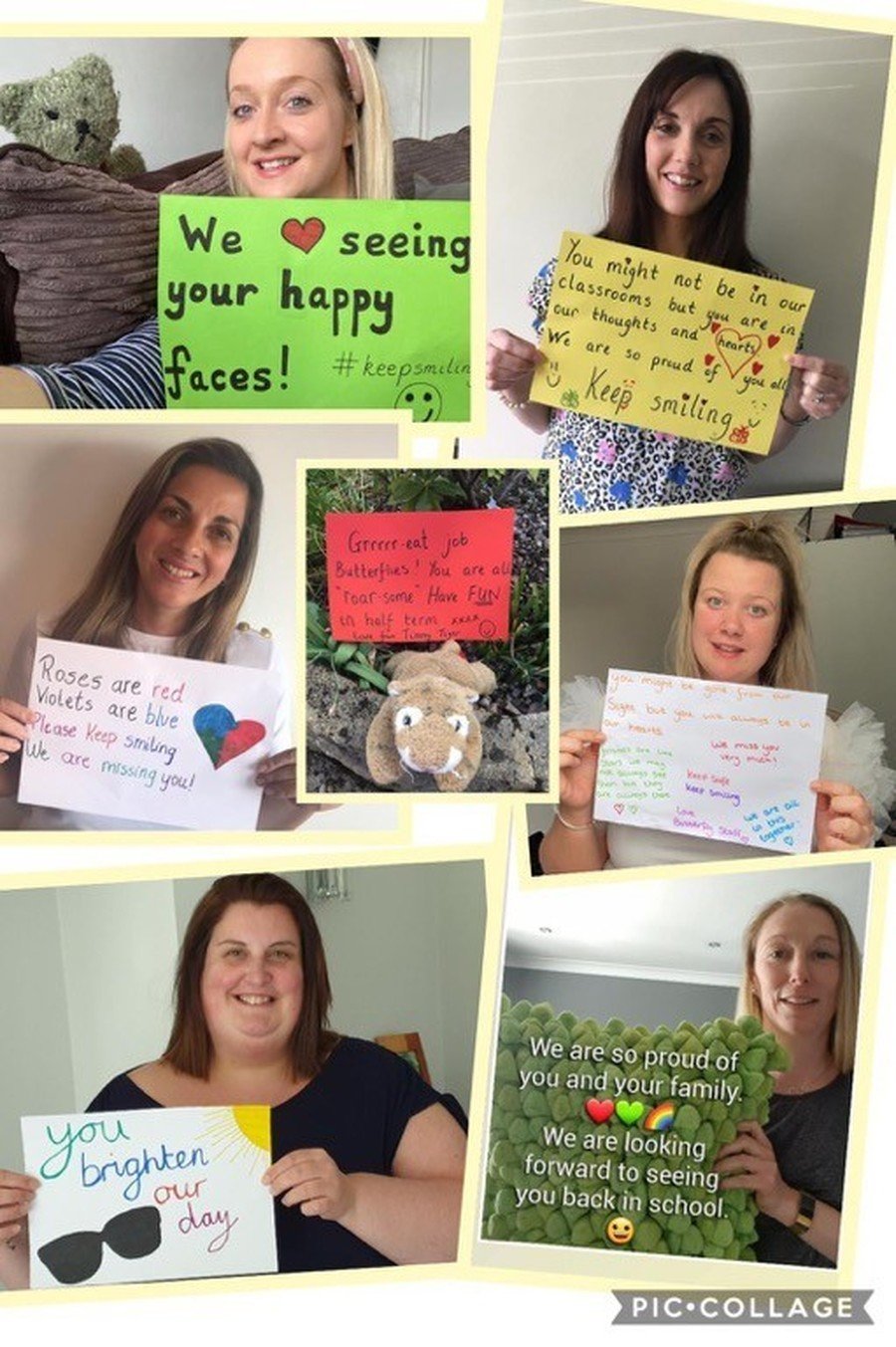 FROM MONDAY 15TH JUNE - NEW RECEPTION HOME LEARNING PACKS WILL BE AVAILABLE TO COLLECT FROM THE SCHOOL CAR PARK.
Home learning due to school closure
Welcome back after the May half term. We hope you all had a lovely week and enjoyed the sunshine and that you are all keeping well and safe.
For the first two weeks in the final Summer term, school will not be providing home learning packs. Instead we have planned for two whole school themes; HEROES and WHO AM I? and have provided ideas of activities that you can do at home on the planning sheets below. These weekly plans will also be posted on Tapestry at the start of each week. We will continue to use Tapestry to record members of staff reading stories. Please log in to Tapestry to see Mrs Williams (one of the Nursery teachers) reading 'Superworm' and Mrs Ellis (Red Butterflies teacher) reading 'Ten Little Superheroes'.
Week 1 (01.06.2020) HEROES theme
Week 2 (08.06.2020) WHO AM I? theme
From Monday 15th June we will be providing new Home learning packs and these will be available to collect from the school car park during school hours from Monday 15th June.
Once again, don't worry about how much you can do with your child at home, these ideas and resources are here to support you and we understand that everybody has different circumstances at home and different work commitments, which will dictate how much learning is manageable for your child/children.
Please get in touch via our emails or through Tapestry if you have any questions, concerns or if you would like to share your child's achievements with us. We love seeing photos and reading about what the children are doing on Tapestry, it brightens our day seeing the children as we are missing seeing them in school. Take care and stay safe.
#KeepSmiling #AsquithSpirit
rosemary.gledhill@asquithprimary.org - Green Butterfly Class
Staff working in Reception.
Mrs Ellis is the teacher in Red Butterfly Class.
Miss Gledhill is the teacher in Green Butterfly Class.
Miss Dean and Miss Dolby are the teaching assistants who work between both classes.
Miss Crabbe and Miss Avila provide SEND support in Reception.
PE days will be Monday AM for Red Butterfly Class and Tuesday AM for Green Butterfly Class. PE kit is as follows- White t-shirt, royal blue shorts, black pumps. Please make sure ALL PE kit is named.
Home learning books are sent home on a Friday and they need to be returned to class by the following Wednesday.
Reading will take place once a week in class with a member of staff. Children must bring their reading books and reading records in their book bag every day. We recommend that your child reads around 3 or 4 times a week at home. Whenever someone listens to them read can we encourage you to write a brief comment in their reading records. Your child will earn a team point each time they read at home.
Tapestry - We use the online journal app called 'Tapestry' to record and share your child's learning with you at home. We love seeing what home learning your child does outside of school and encourage parents to share these photographs and videos via Tapestry which will contribute to your child's profile. We are delighted that together we are able to build a journal of your child's learning journey in Reception class.
Water bottles - We encourage your child to bring a water bottle to school (water only please). Please write your child's name on their water bottles as well as all items of school uniform.
Snack - Fruit or vegetables are provided in school as well as free school milk up until your child's 5th birthday. If you would like your child to continue to have milk in school after their 5th birthday, please visit the cool milk website - https://www.coolmilk.com