'This school is committed to safeguarding and promoting the wellbeing of all children, and expects our staff and volunteers to share this commitment'
friendship equality respect determination

inspiration
PARENTS
Welcome to the parent section. Here you will be able to download the latest newsletter, read the school prospectus and find out more useful information.
OPEN DAY for parents of children starting school in September 2020
On Tuesday 19th November there are two time slots available for parents and children to come and look around our school.
One is at 10am and the other is at 4pm. Both tours will start from the School Office so please arrive there at either 10am or 4pm
Mrs Ellis, the Early Years Phase Leader and Reception teacher, along with a few pupils will be leading the tour at 10am.
Then at 4pm Mrs Ellis will be joined by the other Reception teacher, Miss Gledhill to take parents and children on a tour of our school.
Mrs Austerfield (Headteacher) and Mrs Aldwinkle (Deputy Headteacher) will also be around to introduce themselves.
If you would like to come and have a look around at either 10am or 4pm please phone the School Office to let them know on 0113 3075550 or email
admin@asquithprimary.org
STEM HOMEWORK EVENING
The children created some excellent projects for their STEM homework. Thank you to everyone that came along to look tonight. I hope you also enjoyed trying some of the dishes from our new lunch menu and had a chance to look at the information about the Relationship and Sex Education Curriculum.
Young Sports Leaders Awards
Really proud of our Year 6 Young Sports Leaders today. Showed respect and confidence when receiving their awards at Elland Road this afternoon.
Parents Survey March 2019
Thank you to everyone that completed the survey. We had 103 responses and these are summarised below.
Click below to visit the parent info website
CELEBRATING WORLD BOOK DAY!
We all had a great day celebrating our love of books. The children and staff had fun dressing up as a character from a book, swapping books with each other, learning about a story linked to Science as well as eating a special World Book day lunch.
#welovereading
Happy new year!
Welcome back to school! We hope you had a great time over Christmas and we are looking forward to this term.
If you feel like you want a reminder of our Christmas celebrations - here is a recording of the LKS2 Carol Concert at St Peter's Church!
A Busy Day at Asquith Primary!
What a busy day today! Alder Class are at the Sculpture Park, Year 6 have been to the WW1 Remembrance Service in Morley and we have The Rocket on our car park! We just love to be busy!
Remember to stay safe on Bonfire Night!
Click the link below to see our assembly about the Firework Code.
Choir opening White Rose Playground
Our choir had the privilege of singing at the opening of the new playground at the White Rose Centre! The children were amazing and had the chance to try out the new play equipment.
Run Around the World
We ran around the world for Forget Me Not Children's Hospice. We ran over 800 miles with our friends from Churwell Primary - that's like running to Brussels and back!! No wonder we are exhausted!
Please bring your sponsor money back to school by 8th June. Thank you children, you are amazing!
Thank you to everyone who completed our recent survey for parents. There were 58 responses. We will be addressing the issues raised over the next few weeks.
The summary of responses is available here. Parent Survey March 2018
Morley Homework Exhibition
EYFS Family Fun Day
Our Visit To London
We took some of our School Council to London with the other Aspire schools. We visited Parliament, Downing Street, Horseguards Parade and Buckingham Palace. We even saw Prince Philip and we heard Boris Johnson speaking in the House of Commons. It was an amazing experience and the children were excellent representatives of our school.
World Book Day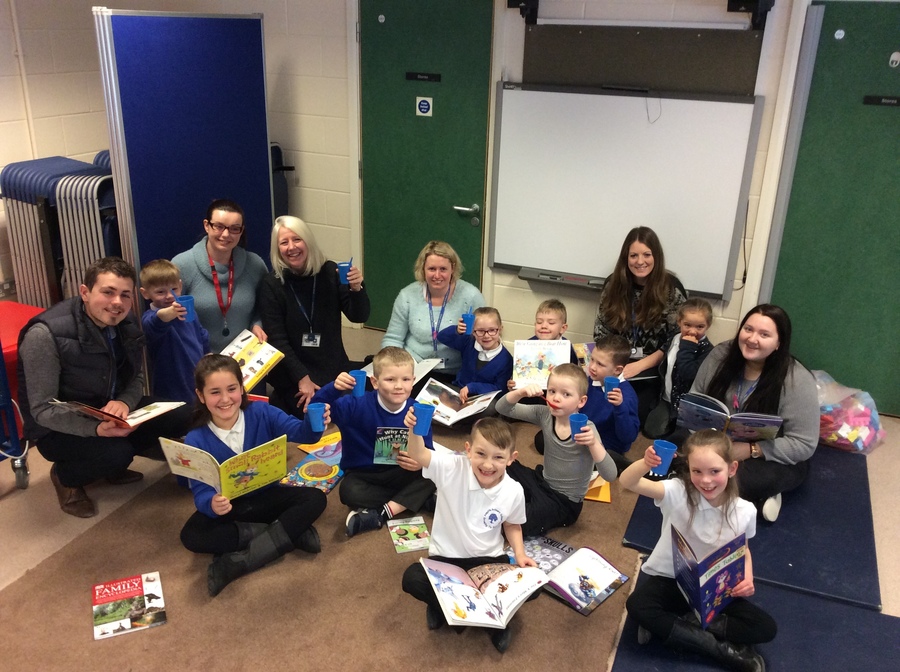 If parents require paper copies of information on the website, they can be obtained free of charge by contacting a member of office staff.
PARENTS EVENING
As always, teachers are willing to discuss any issues with parents throughout the year. It is usually better to phone beforehand to make an appointment so that you can be sure that the teacher is available.
We will let you know when the booking link opens.
https://www.parents-booking.co.uk/asquith
Our free mobile app is available to download through your app store. Search for asquith ps. Feedback from parents has been very positive. You can receive alerts and news through the app as well as newsletters and the school calendar. There is also a contacts page which can be used to contact members of staff directly. Please download it and let me know what you think!
OFSTED seek the views of parents about school through 'Parent View'.
The link to the site is below.